When you have a dog in your life, you are willing to go the extra mile to make them happy. You do your best to make them comfortable, feed them good food, give them lots of love, and if necessary, take them to the vet. There may even be times when you will step up to the plate and protect them from harm. It's a great relationship and, although we do a lot for our dogs, we know that we get back so much more.
For the most part, we enjoy spending quiet and peaceful times without pets but what if someone was trying to do them harm? Even worse, what if someone was trying to steal your dog? You would probably get so angry you wouldn't know what to do and I'm sure we all hope that it never happens to us. For a man that lived in Port Elizabeth, however, that scenario almost became a reality.
Someone was trying to steal that man's Pit Bull and they were doing it in broad daylight. Fortunately, the entire event was caught on video so you can see how he handled the situation. It is a lesson for all of us to keep a close eye on our dogs at all times.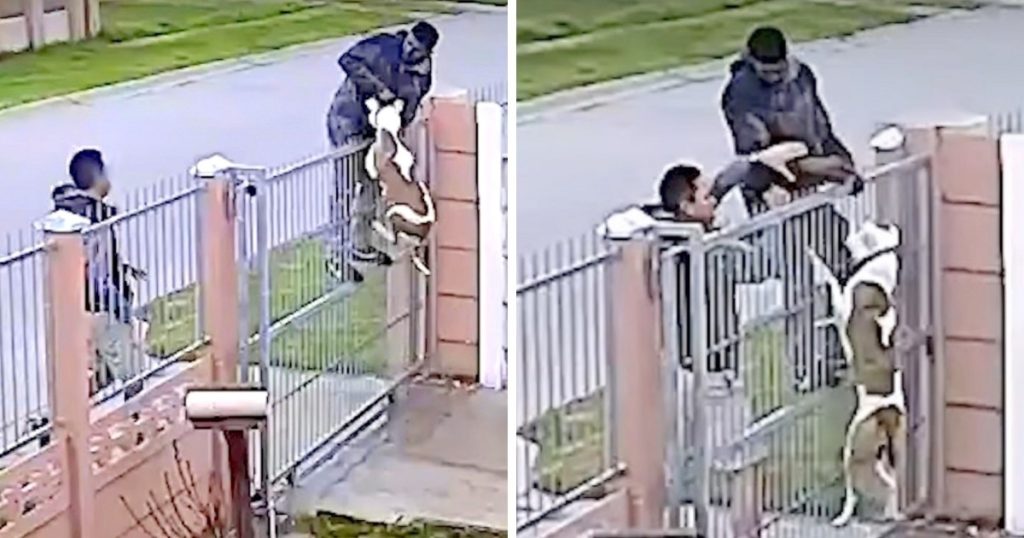 More than likely, the dognapper was casing the yard before he tried to take the dog. He grabbed the dog by the collar and tried to lift him over the fence. The owner of the dog was able to go in at the last minute and save the day.
In an interview, the owner admitted that he had tried to steal his pit bull in the past. He had claimed that the dog was his but he ran away when he was asked to prove it.
Volunteer and rescuer Marizanne Ferreira feels that pit bulls are being targeted by thieves for use in dog fights. That is why it is important to microchip your dog and keep a close eye on them at all times.
You can see it happen in this video:
Source: Bored Panda